Honolulu, Oahu, HI
Cruises depart from Honolulu year-round.
Aquatic fun and historic landmarks abound in Honolulu. At Waikiki Beach, enjoy activities ranging from sunbathing and surf lessons to diving adventures among sea turtles, dolphins and possibly humpback whales. Close by is Diamond Head Crater, where a hiking trail concludes amid mesmerizing views. Visitors of Pearl Harbor can see the USS Arizona, the vessel on which 1,177 crewmen perished on Dec. 7, 1941, and stand on the deck of the Battleship Missouri, where the U.S. accepted Japan's surrender to end World War II. Additional attractions include Iolani Palace, once the residence of Hawaiian monarchs, and the National Memorial Cemetery of the Pacific, the burial ground for more than 50,000 American service members. Excursions are available to Oahu's North Shore; the island's Windward Coast, a filming locale for the movie "Jurassic Park;" and the Dole Plantation, where you can sample freshly procured pineapple.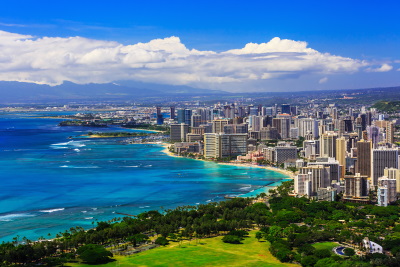 Language: English
Currency: US dollar (US$)
Driving Directions and Parking Information
Port of Honolulu
Aloha Tower Marketplace
Honolulu, Hawaii 96813

The Port of Honolulu at the Aloha Tower Marketplace is located about 5 miles from the Honolulu International Airport. Approximate travel time is 10-15 minutes. From the airport, turn right at North Nimitz Highway and travel 4.4 miles. Then, bear right at South Nimitz Highway and travel 0.2 miles. Turn right at Fort Street, then left at Aloha Tower Drive. There is no parking information available at this time.
Norwegian sailings will depart from the Pier 2 Cruise Terminal.
Pier 2 Cruise Terminal
521 Ala Moana Boulevard
Honolulu, Hawaii 96813

Driving from Honolulu International Airport to Pier 2: Start out going north on Rodgers Blvd. toward N. Nimitz Highway for .1 miles. Turn right onto HI-92 N. Nimitz Highway and travel 5 miles. Nimitz Highway becomes Ala Moana Blvd. Turn right on Channel Street. Once on Channel Street, the cruise terminal is on the right-hand side.
Driving from Waikiki to Pier 2: Travel on Ala Wai Boulevard heading west. Turn left on Highway 92 (Ala Moana Blvd. merging into Nimitz Highway). Turn left on Channel Street. Once on Channel Street, the cruise terminal is on the right-hand side.
Honolulu, Oahu, HI Weather
Jan
Feb
Mar
Apr
May
Jun
Jul
Aug
Sep
Oct
Nov
Dec
High
80
80
81
82
84
86
87
88
88
86
84
81
Low
66
66
67
69
70
72
73
74
74
72
70
67
Jan
Feb
Mar
Apr
May
Jun
Jul
Aug
Sep
Oct
Nov
Dec
High
27
27
27
28
29
30
31
31
31
30
29
27
Low
19
19
19
21
21
22
23
23
23
22
21
19
Jan
Feb
Mar
Apr
May
Jun
Jul
Aug
Sep
Oct
Nov
Dec
Inches
3
3
3
1
1
0
1
1
1
2
3
4
Centimeters
8
8
8
3
3
0
3
3
3
5
8
10
Jan
Feb
Mar
Apr
May
Jun
Jul
Aug
Sep
Oct
Nov
Dec
Percent
82
80
78
77
76
75
75
75
77
78
79
80